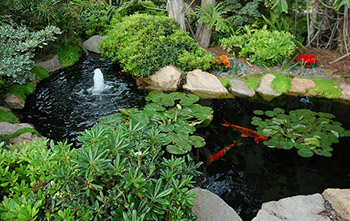 Koi ponds are not only a beauty to look at but they also offer an excellent environment for fish. As the koi fish swim gently from one end to another, the sound creates an atmosphere of peace and leisure. In time the fish will grow used to your presence and they will swim to the edges of the pool whenever they see you approach. You'll be surprised by the amount of pleasure these animals can offer and the general enhancement they offer to your property and your life. Having a Koi pond in Pretoria is now available for all garden owners, with our affordable service.
Koi ponds exist in different styles. The most popular among koi pond designs in Pretoria are the raised and sunken ponds. In order to get a beautiful finish, a simplistic stone coping or a natural rock finish can be added on one side of the pond. You can also add rock formations, bridges, aquatic plants to your pond and you might consider complementing a koi pond with different types of water features. Carefully designed fish ponds will definitely be an exquisite addition in any garden that they are being built on.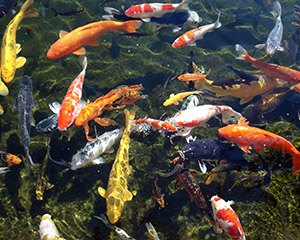 We are a group of highly experienced landscapers with immense experience in Koi pond design and construction. We have been in operation for a long time and we have gained all the necessary skills needed in order to design and construct beautiful and highly efficient pools. Building or maintaining a pond in your own garden should not be an issue and that is why we handle all the hard work for you. We also offer koi pond maintenance and repairs and we'll clean the pumps and filters when necessary.
For a fully integrated Koi pond Pretoria service, then we provide all design, installations and maintenance of ponds, in both a residential or commercial area. Enjoy the pleasures of a garden koi pond and give us call for friendly and free advice on 012 004 1840.